Short Course National Championships 2023
Alert:
Entries for this event have now closed. Entries closed 7 months, 1 week ago
Race Date

7 May 2023

Race Type

Short Course
Organising Club

Marathon Racing Committee

Organiser
---
Location

Nene Park, Peterborough, England PE2 7EG, United Kingdom
National Short-Course Marathon Championships 2023
The MRC is excited to announce the Second National Short-Course Marathon Championships, which will take place at Gunwade Lake, Nene Park, Peterborough on Sunday 7th May 2023.
The races will feature the ICF short distance of 3.6km, consisting of 3 laps and 2 portages. The Para class will not have any portages.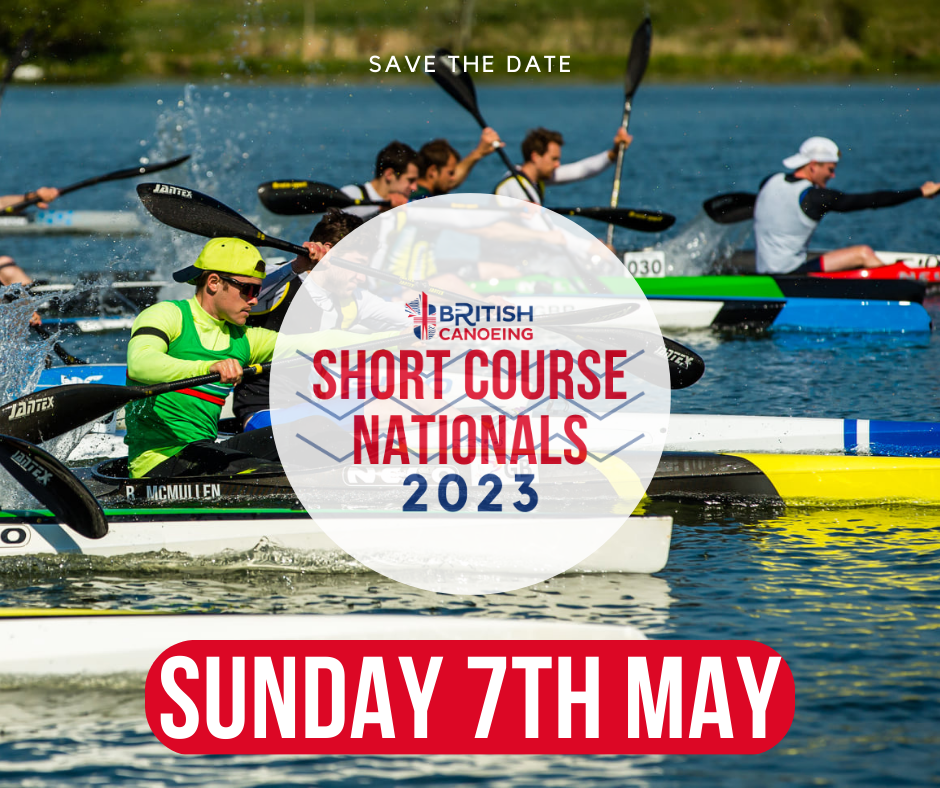 DETAILS
DATE Sunday 7th May 2023
HOSTED BY Marathon Racing Committee
VENUE Gunwade Lake, Nene Park, Peterborough
ENTRIES Pre-entry at https://entries.gbcanoemarathon.co.uk/ only.


To enter the race, your BC/SCA/WCA or CANI membership must be valid on the day of the race. The race entry system will verify your membership status, and if it expires between the time you register and race day, you may be denied entry. To avoid any issues, we recommend renewing your membership early online, as the entry system will be automatically updated. Please note that we cannot accept entries from paddlers without a valid full membership for the day of the race, and "Day Tickets" will not be available.
The entry fee for all paddlers is £20 per head.
Payment must be made through the entry system at the time of registration. We regret to inform you that refunds will only be available in the event of a race cancellation.
Please keep in mind that the number of entries may be limited, and the organisers reserve the right to cap the number of participants. Entries will be processed on a first-come, first-served basis.
CLASSES
We are offering the following races, which will include prizes in various age categories for both male and female participants. All age titles with sufficient participants will be eligible for prizes and titles.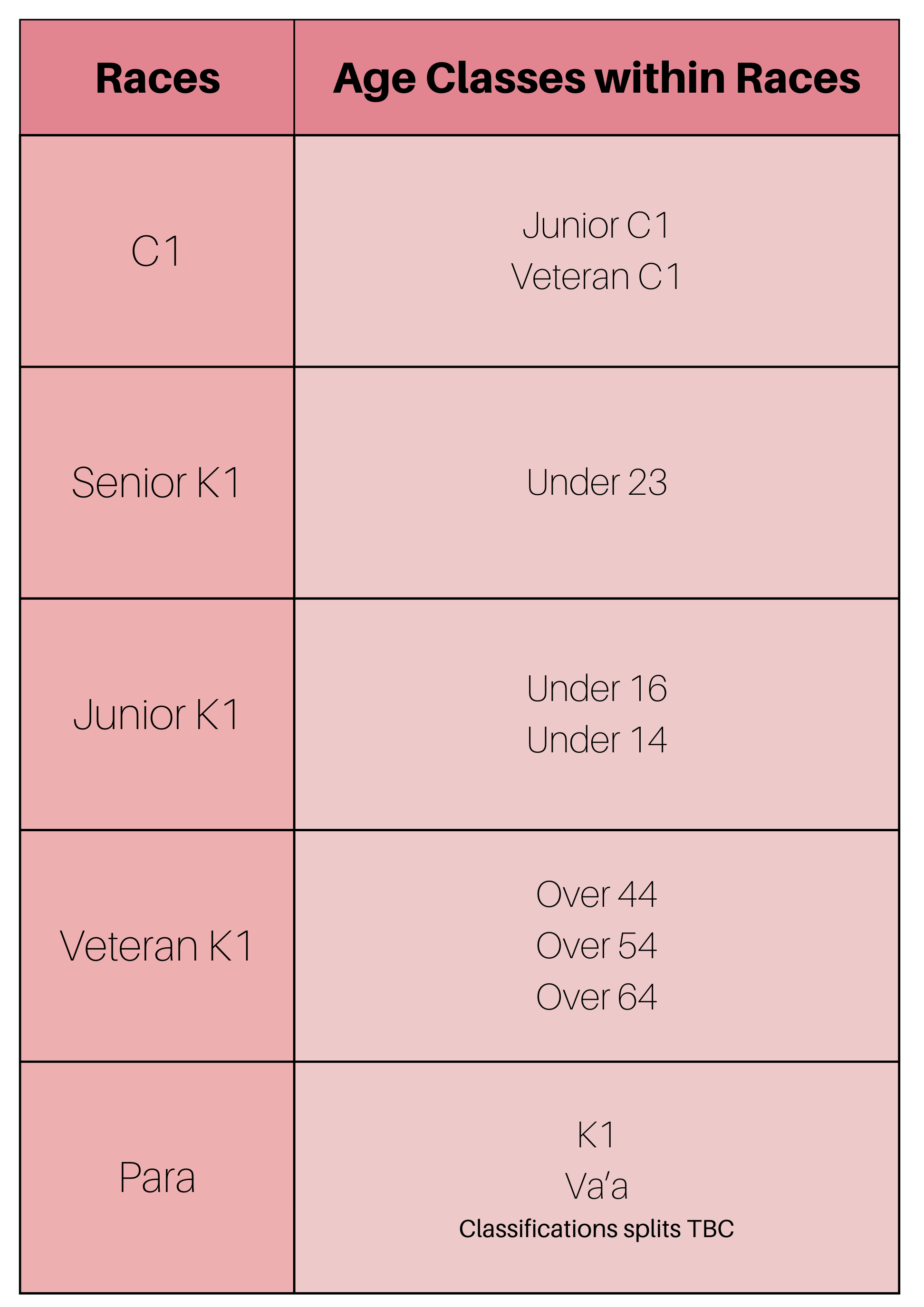 To be considered quorate, an age class must have a minimum of 5 eligible entries. Please note that all paddlers will be counted in the main race they enter, as well as any age classes within that race for which they are eligible. For instance, a U14 K1 paddler will have a recorded position in the Junior K1, U16 K1, and U14 K1 results. On the other hand, an U18 K1 paddler will only be listed in the Junior K1 results.
Please be advised that the organiser may combine main races in the event of low entries. Paddlers are welcome to enter a higher class, such as a veteran paddler entering the senior class.
It is possible for paddlers to enter more than one race, but please note that the schedule for the day is very tight. Therefore, there is a high probability that you will end up racing back-to-back.
To qualify for a National Championship title or medal, a paddler must meet the criteria outlined in the Marathon Racing Rules for National Championships.
MINIMUM STANDARD
Please note that the schedule for the day is quite tight, with only 30 minutes between start windows. In order to avoid delaying the following start, any paddler who is still on the course may be asked to leave. Therefore, it is essential that every paddler can complete the course within 27 minutes.
BRIEFING
Please note that the race briefing for this event (including final timings of races) will be available online only and can be accessed at canoeracing.org.uk/marathon or the entries page during the week prior to the event. Any updates to the briefing will be posted on the MRC website.
It is the responsibility of each athlete and team leader to ensure that they are familiar with all aspects of the briefing and any final arrangements. Please review the briefing carefully and reach out to the organisers if you have any questions or concerns.
RULES
Please be advised that the Marathon Racing Rules will apply to this event, and any violations will be subject to sanctions imposed by an independent protest committee. As short-course racing is fast and competitive, with numerous turns and portages, and the rules allow for time penalties in the event of collisions or course infractions. The Marathon Racing Rules can be accessed here.

The organisers reserve the right to introduce event-specific rules, which will be detailed in the online Briefing. We encourage all athletes and team leaders to review the briefing carefully to ensure that they are fully informed of all rules and regulations governing the event.
FORMAT
For all classes with over 15 entries, there will be heats and qualification to seeded finals. The number of boats qualifying from each heat to each final will be published once entry numbers are known. All boats will complete both heat and final rounds.
Classes with fewer than 15 entries will either be combined with another appropriate class or run as a straight final.
All courses are 3.6km in length. Paddlers will start in a stationary line and proceed roughly 600m to Turn A, which is taken anti-clockwise. From there, they will race approximately 600m to the anti-clockwise Turn B. From Turn B, except for Para classes (see below), they will proceed around 50m to the portage.
The portage covers around 80m on concrete and sand surfaces. Paddlers will exit from the water straight onto a slipway protected by triathlon matting, which will allow for paddlers to exit into shallow water without grounding. The run is mostly on concrete before re-entry to the water off a sandy beach. The water depth at the entry and exit is sufficient to prevent boat damage if the paddler is suitably careful.
From the portage exit, it is roughly 500m to Turn A again. On completion of the second portage, paddlers will go around Turn A and straight to the finish line without going to Turn B.
All classes, except Para classes, will complete the following course:
Start – Turn A – Turn B – Portage – Turn A – Turn B – Portage – Turn A - Finish.
Para classes will not portage, completing the following course instead:
Start – Turn A – Turn B – Turn A – Turn B – Turn A – Finish.
Any paddler who wants a portage exemption should contact the organiser requesting one prior to the entry deadline.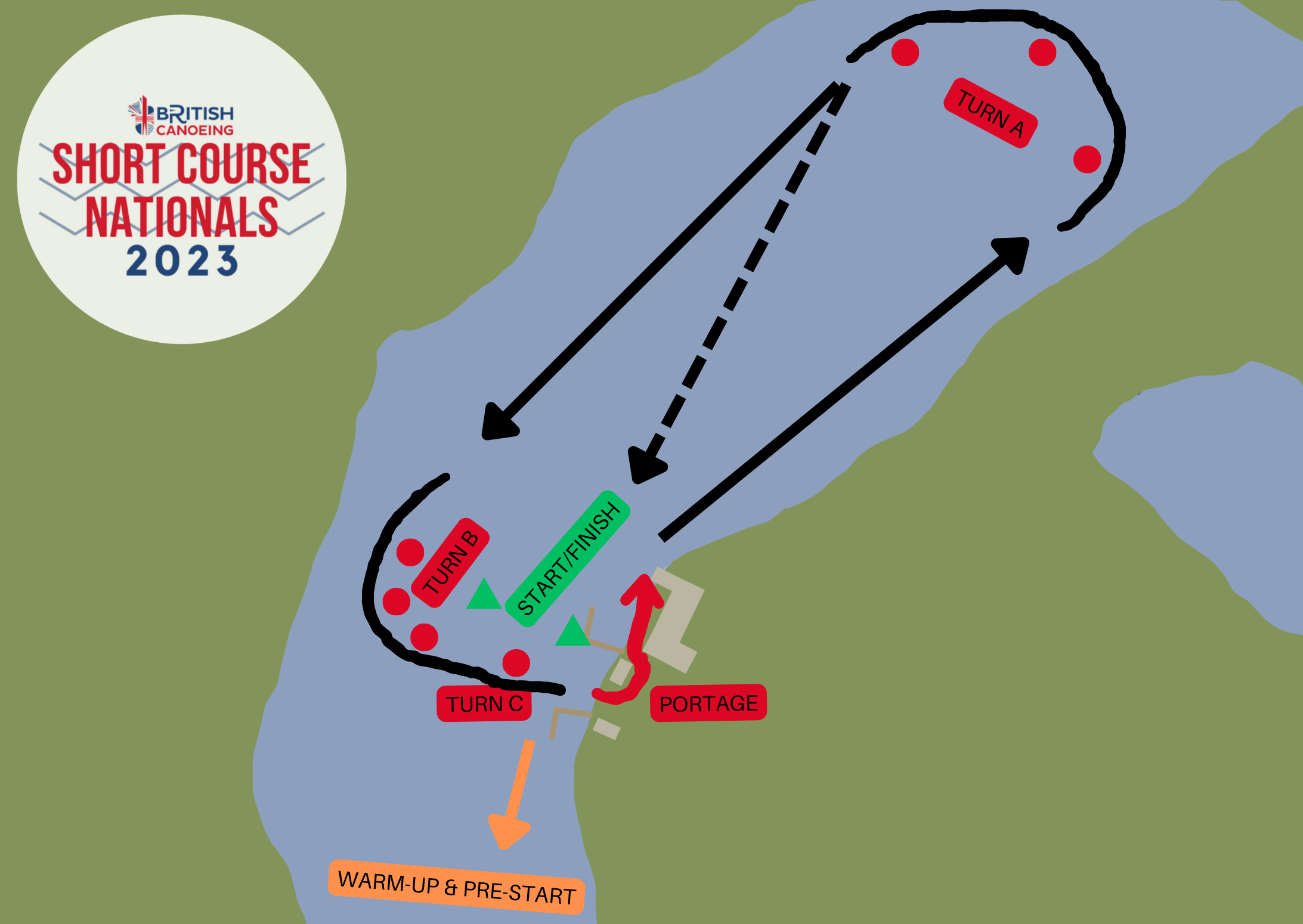 PRIZES
Medals will be awarded to the top three finishers in Final A of each class, as well as the highest-placed paddlers in each age class, who will be recognized as National Championship medalists. The winners of Final A in each class/age class will be crowned as Short Course National Champions in their respective age categories.
COLOURS
All paddlers are required to race in their club colours. In the event of inclement weather, additional layers or buoyancy aids may be worn, but club colours must be visible on top. Failure to comply with this rule will result in ineligibility for prizes.
Since this is a marathon event, paddlers should race for the club they typically represent in marathon races. Paddlers racing as Independents may wear an all-white top.
NUMBERS
Boat numbers will be assigned for the entire event, and it is the responsibility of paddlers to return them upon leaving the water after their final race. Those competing in multiple classes may be issued with separate numbers for each race.
SAFETY
The safety of all participants is of paramount importance. A detailed risk assessment for the event is available on the entry site. All paddlers must be able to swim or stay afloat in their paddling clothing. Boats must be equipped with adequate buoyancy to stay afloat in the event of a capsize, and will be checked before embarkation. Three motor launches will be present on the course for marshalling, but will be available to assist paddlers in case of difficulty.

The organisers reserve the right to direct any paddler to leave the course and not finish the race if there are concerns for their safety or the effective running of the event. This may apply to a paddler who capsizes and loses enough time to interfere with other races on the timetable.
Although buoyancy aids are not compulsory for this event, paddlers and team leaders should carefully consider the conditions on the day and wear them if required. In the event of poor weather or other challenging conditions, the organisers may make buoyancy aids mandatory.


BOAT CHECKS
Before paddlers and their boats are allowed on the water, they must first undergo boat control to ensure that they meet the event's safety standards. Entry lists will also be checked to ensure that all starting boats have passed the inspection. In boat control, all boats must display the correct race number.
To participate in the race, all boats must have sufficient buoyancy to keep both the boat and paddler afloat in rough water in the event of a capsize. Boats constructed with vac bagged, sandwich or other materials alone will not be sufficient to meet this requirement. Additional fixed buoyancy, such as foam, air bags, and/or sealed bulkheads, will be required.


RETIREMENTS
Paddlers retiring from a race should endeavour to exit the water at designated pontoon for disembarkment and notify race control of their withdrawal.
FACILITIES
Nene Park offers excellent male and female changing rooms and toilet facilities. If additional facilities are required, public toilets are located in the car park closest to the centre.
Drinking water will be available at the centre, and paddler refreshments will be provided free of charge to all competitors. In addition, hot and cold refreshments can be purchased at the café.
Please note that Nene Park offers limited camping facilities which must be booked directly with the venue here. If you plan to camp at the venue, we recommend that you book as soon as possible to secure your spot.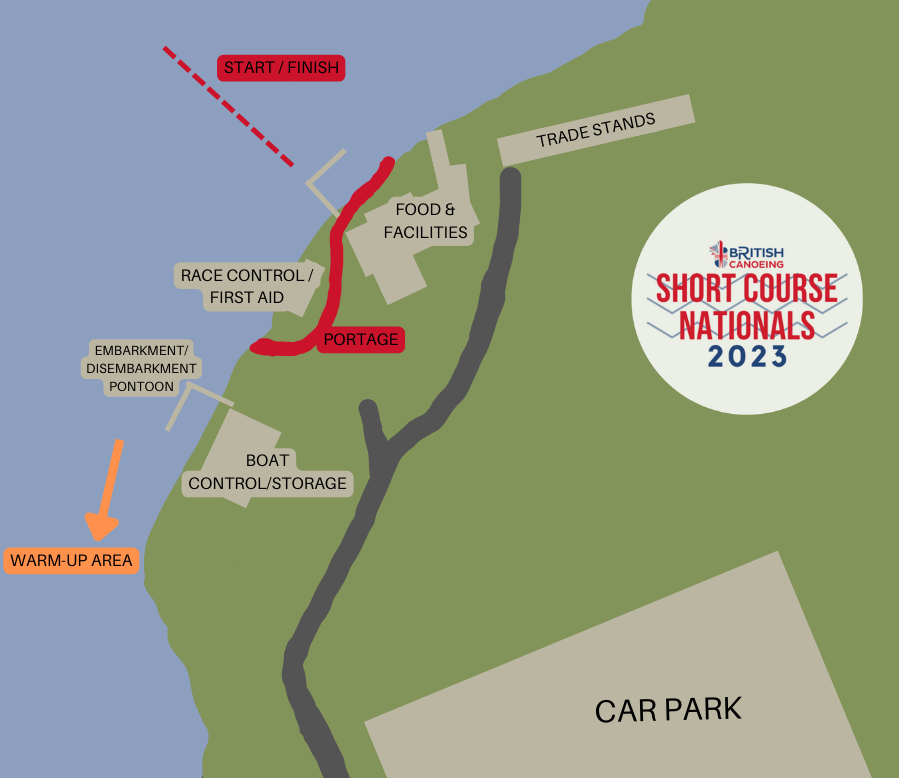 SPECTATORS
Throughout the event, the entire course can be viewed from the bank and the centre café, providing excellent visibility for spectators. For safety reasons, the cordoned-off portage area can only be crossed under the guidance of a portage marshal. Team leaders are the only ones permitted to go to Race Control.
PRE EVENT PADDLING
The lake is a commercial facility, and any paddler who wishes to paddle prior to the event must follow the centre's rules. Nene Park Outdoor offers a pay-to-play facility on Saturday, and more information about this can be found on their website: https://www.nenepark.org.uk/water-pay-play-activities. If using the pay-to-play option at Nene Park Outdoor on Saturday, buoyancy aids MUST be worn as per the centre's safety regulations.
Entry Details
Race types
Short Course Races

Junior Men Kayak Singles
Junior Women Kayak Singles
Senior Men Canoe Singles
Senior Women Canoe Singles
Senior Men Kayak Singles
Senior Women Kayak Singles
Veteran Men Kayak Singles
Veteran Women Kayak Singles
Men Para Va'a or K1
Women Para Va'a or K1
Entries are currently closed
Entries open

1 Apr 2023, 12:01 a.m.

Late entries

26 Apr 2023, 11:59 p.m.

Entries close

30 Apr 2023, 11:59 p.m.